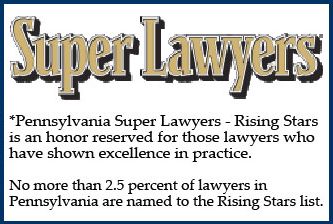 Law Firm of Sacchetta & Falcone
The Law Firm of Sacchetta & Falcone was founded by partners Marc T. Sacchetta and Craig A. Falcone as a litigation firm limiting its practice to the areas of personal injury and criminal defense. The goal of this law firm is to provide aggressive representation along with personal attention to the special needs of our clients. Our litigation experience, along with our many settlements and jury verdicts are the reason we are well respected in our areas of practice. Both Marc Sacchetta and Craig Falcone have been selected by their peers for the prestigious accolade of Pennsylvania Superlawyers - Rising Stars.
As civil trial lawyers, our personal injury practice encompasses representing individuals injured as a result of automobile, truck or motorcycle accidents (we handle both full tort and limited tort cases), SEPTA accidents, pedestrian accidents, bicycle accidents, slip/trip and fall accidents, premises liability, work injuries, construction accidents, nursing home neglect, dog bites, injuries caused by defective products, toxic exposure, medical malpractice, birth injuries and wrongful death. We represent the interests of the individual harmed and not those of big insurance companies, who try to deny or substantially undervalue an injury claim.
As criminal defense attorneys, we fight for our clients facing criminal charges in the State of Pennsylvania. Whether the charges are serious felonies, misdemeanors or even summary offenses, they are something that can seriously impact the rest of their life. Superior representation can be the difference between a favorable result and a conviction which could result in significant jail time, exorbitant fines and costs and loss of driving privileges. We offer representation for matters involving Drunk Driving (DUI) charges, Drug Offenses, Violent Crimes, Juvenile Crimes, Underage Drinking, Retail Theft, ARD Cases and Expungements.
When you contact Sacchetta & Falcone, you can expect an in person consultation directly with one of our partners, who will be able to answer questions regarding your potential case and give you their professional opinion. Both partners are admitted to practice and have successfully litigated cases in the state and federal courts of Pennsylvania and New Jersey.
Let us put our experience to work for you and increase the chances of success.